Carly
has read 11 books toward her goal of 12 books.
October 11, 2018- October 27, 2018:
Birthmarked Trilogy:
Prized
by
Caragh M. O'Brien
Striking out into the wasteland with nothing but her baby sister, a handful of supplies, and a rumor to guide her, sixteen-year-old midwife Gaia Stone survives, only to be captured by the people of Sylum, a dystopian society where women rule the men who drastically outnumber them, and a kiss is a crime. In order to see her sister again, Gaia must submit to their strict social code and the oppressive rules of Matrarc Olivia. Meanwhile, two brothers claim her attention as they attempt to understand the environmental trap that keeps the people of Sylum captive, and suddenly Gaia must contend with the exciting, uncomfortable, and altogether new feeling of being desired.
But when someone from her past shows up, Gaia discovers that survival alone is not enough and that justice requires sacrifice.
Go to Goodreads to buy your copy!
September 9, 2018- October 5, 2018:
Birthmarked Trilogy:
Birthmarked
by
Caragh M. O'Brien
In the future, in a world baked dry by the harsh sun, there are those who live inside the walled Enclave and those, like sixteen-year-old Gaia Stone, who live outside. Following in her mother's footsteps Gaia has become a midwife, delivering babies in the world outside the wall and handing a quota over to be "advanced" into the privileged society of the Enclave. Gaia has always believed this is her duty, until the night her mother and father are arrested by the very people they so loyally serve. Now Gaia is forced to question everything she has been taught, but her choice is simple: enter the world of the Enclave to rescue her parents, or die trying.
Go to
Goodreads
to buy your copy!
August 28, 2018- September 9, 2018
His Dark Materials:
The Amber Spyglass
by
Philip Pullman
Will is the bearer of the knife. Now, accompanied by angels, his task is to deliver that powerful, dangerous weapon to Lord Asriel - by the command of his dying father.
But how can he go looking for Lord Asriel when Lyra is gone? Only with her help can he fathom the myriad plots and intrigues that beset him.
The two great powers of the many worlds are lining up for war, and Will must find Lyra, for together they are on their way to battle, an inevitable journey that will even take them to the world of the dead...
August 24, 2018- August 28, 2018
His Dark Materials:
The Subtle Knife
by
Philip Pullman
Lost in a new world, Lyra finds Will—a boy on the run, a murderer—a worthy and welcome ally. For this is a world where soul-eating Specters stalk the streets and witches share the skies with troops of angels.
Each is searching—Lyra for the meaning of Dark Matter, Will for his missing father—but what they find instead is a deadly secret, a knife of untold power. And neither Lyra nor Will suspects how tightly their lives, their loves, and their destinies are bound together... until they are split apart.
March 18, 2018- August 18, 2018:
A Tale of Two Cities
by
Charles Dickens
In Paris, the streets run red with blood. In London a beautiful young women waits for word of the nobleman she loves....
The novel depicts the plight of the French peasantry demoralized by the French aristocracy in the years leading up to the revolution, the corresponding brutality demonstrated by the revolutionaries toward the former aristocrats in the early years of the revolution, and many unflattering social parallels with life in London during the same time period. It follows the lives of several protagonists through these events.
Go to
Goodreads
to buy your copy!
My Reviews:
Written
Video:
May 30, 2018- June 1, 2018:
Lucas Davenport has seen many terrible murder scenes. This is one of the worst. In the small Minnesota town of Wayzata, an entire family has been killed—husband, wife, two daughters, dogs.
There's something about the scene that pokes at Lucas's cop instincts—it looks an awful lot like the kind of scorched-earth retribution he's seen in drug killings sometimes. But this is a seriously upscale town, and the husband was an executive vice president at a big bank. It just doesn't seem to fit.
Until it does. And where it leads Lucas will take him into the darkest nightmare of his life.
May 21, 2018- May 30, 2018
Harry Potter and the Goblet of Fire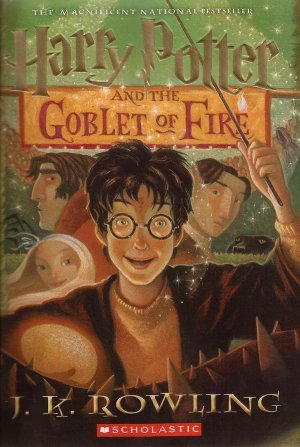 Harry Potter is midway through his training as a wizard and his coming of age. Harry wants to get away from the pernicious Dursleys and go to the International Quidditch Cup. He wants to find out about the mysterious event that's supposed to take place at Hogwarts this year, an event involving two other rival schools of magic, and a competition that hasn't happened for a hundred years. He wants to be a normal, fourteen-year-old wizard. But unfortunately for Harry Potter, he's not normal - even by wizarding standards. And in his case, different can be deadly.






May 20, 2018- May 21, 2018:
Back to the Bedroom
From the #1 "New York Times" bestselling creator of the Stephanie Plum series comes a revised, repackaged classic novel involving a driven redheaded musician, a sexy slacker, love at first sight, a lovable gun-toting granny, suspicious neighbors, and a thrilling mystery.
For months he'd thought of her as the Mystery Woman, draped in a black velvet cloak, with outrageous red curls, flawless skin, and carrying a large, odd case--but the night David Dodd saw a helicopter drop a chunk of metal through the roof of his lovely neighbor's bedroom, he got to meet the formidable and delightful Katherine Finn at last! Rescuing damsels and fixing roofs was dangerous work, he told her, and at the very least he deserved a kiss--didn't he? Kate couldn't argue with Dave's logic, but how could she, the driven concert musician with more commitments than hours in the day, be falling head over heels for a likable cuddler who seemed to be drifting through life? No one had ever made her feel as cherished or desirable, and she'd never had so much fun, but even though her eccentric boarder, Elsie, assured her that where Kate was concerned Dave had plenty of ambition, could she really love a guy who was just smart, sexy and rich?
May 19, 2018- May 20, 2018:
His Dark Materials:
The Golden Compas
Lyra is rushing to the cold, far North, where witch clans and armored bears rule. North, where the Gobblers take the children they steal--including her friend Roger. North, where her fearsome uncle Asriel is trying to build a bridge to a parallel world.
Can one small girl make a difference in such great and terrible endeavors? This is Lyra: a savage, a schemer, a liar, and as fierce and true a champion as Roger or Asriel could want--but what Lyra doesn't know is that to help one of them will be to betray the other.
A masterwork of storytelling and suspense, Philip Pullman's award-winning The Golden Compass is the first in the His Dark Materials series, which continues with The Subtle Knife and The Amber Spyglass.
March 11, 2018- March 17, 2018: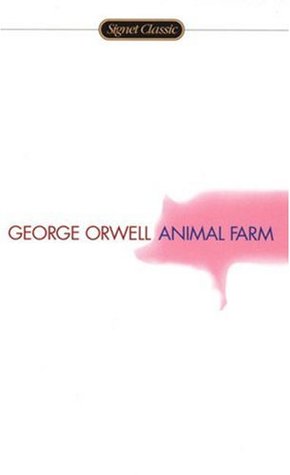 Animal Farm
by
George Orwell
A farm is taken over by its overworked, mistreated animals. With flaming idealism and stirring slogans, they set out to create a paradise of progress, justice, and equality. Thus the stage is set for one of the most telling satiric fables ever penned –a razor-edged fairy tale for grown-ups that records the evolution from revolution against tyranny to a totalitarianism just as terrible.
When Animal Farm was first published, Stalinist Russia was seen as its target. Today it is devastatingly clear that wherever and whenever freedom is attacked, under whatever banner, the cutting clarity and savage comedy of George Orwell's masterpiece have a meaning and message still ferociously fresh.
November 21, 2017- February 18, 2018:
Shrouded Sky
Book 1: The Chosen of the Spears
by
Sanan Kolva
Monsters stalk the paths and clouds hide the sky every night. Now Lyan, astrologer of Heartshrine Village, must leave his familiar forest and home to seek an ancient, powerful weapon: Equinox, Spear of the Stars.
In the right hands, Equinox and its brother Solstice are powerful weapons against the forces of the Mad God, Murdo. In the wrong hands, they could free Murdo from centuries of imprisonment and release him upon the world once more.
Lyan must solve an ancient riddle and find the hidden Shrine of Equinox to protect the Spear from the Mad God with help from the traditional enemies of his people. A cunning monster stalks them, and assassins lurk in shadows. As Murdo's forces draw close and suspicion festers within their group, Lyan and his companions must forge an uneasy truce and rely on each other.
And even if they find Equinox, someone must conquer its trials to claim it, or they may never leave.
Go to
Goodreads
to buy your copy!
My reviews:
Written
Video:
Visit
Sanan's
website!
If you'd like to see what I'm planning to read this year check out my video New Year, New Goals: